Author of Grokking Artificial Intelligence Algorithms
Co-founder at Viszen
Founder at Prolific Idea
Business solutions manager at Entelect
Founder and organizer at Artificial Intelligence ZA
I've been obsessed with computers, technology, and crazy ideas since childhood. Through my career I have been involved in the leadership of teams and projects, hands-on software engineering, strategic planning, and the end-to-end design of solutions for various international clients. I have also been responsible for actively growing a culture of pragmatism, learning and skills development within my organisations, community, and industry.
I have a passion for business mechanics and strategy, growing people and teams, design thinking, artificial intelligence, and philosophy. I have founded various digital products to help people and businesses be more productive and focus on what's important. I also speak at conferences around the globe to make complex concepts more accessible and help people elevate themselves.
Here's an Ikigai map of me: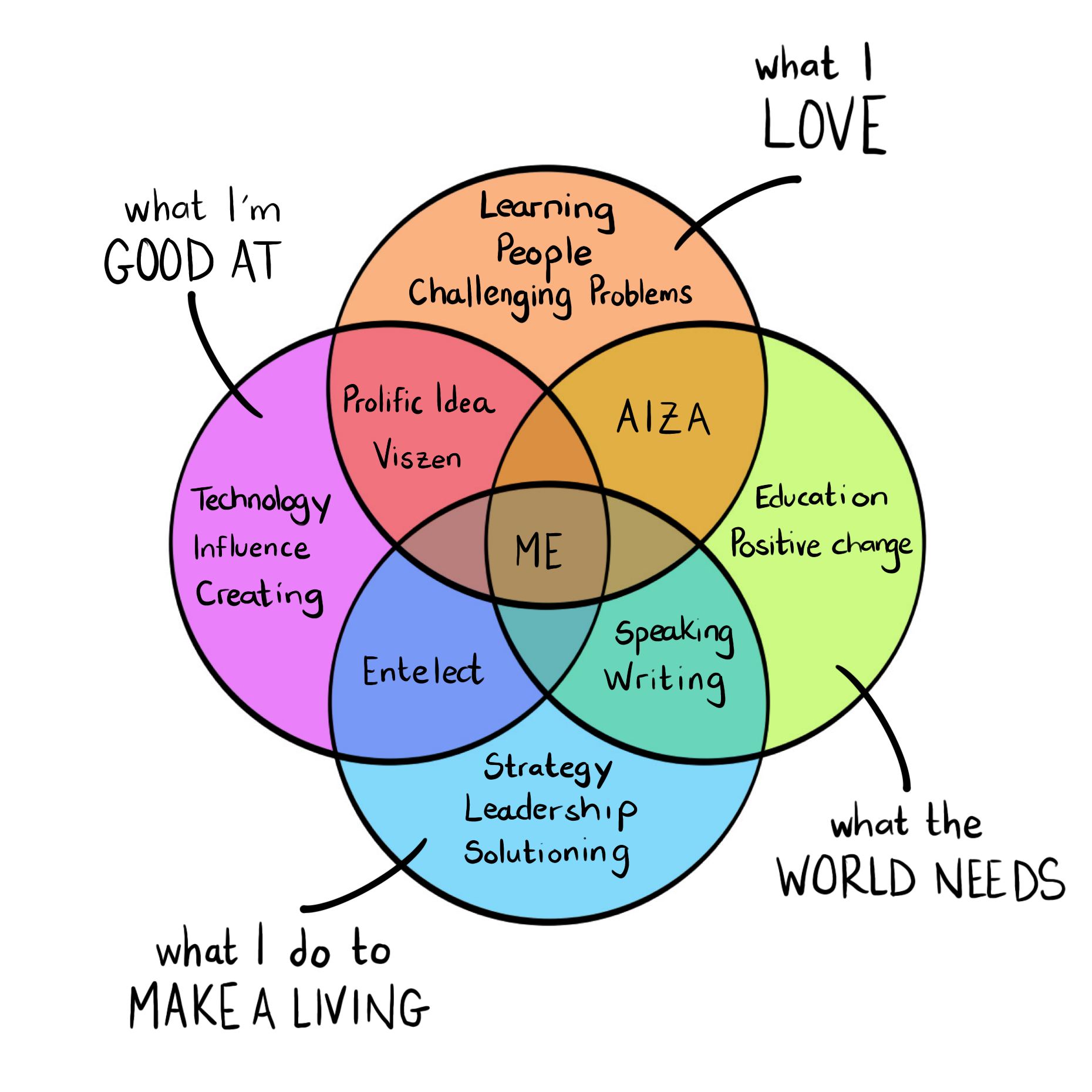 I wrote Grokking Artificial Intelligence Algorithms. The book is a fully-illustrated and interactive tutorial guide to the different approaches and algorithms that underpin AI. Written in simple language and with lots of visual references and hands-on examples, you'll learn the concepts, terminology, and theory you need to effectively incorporate AI algorithms into your applications. And to make sure you truly grok as you go, you'll use each algorithm in practice with creative coding exercises—including building a maze puzzle game, performing diamond data analysis, and even exploring drone material optimization. Grab a copy at Manning Publications.
I co-founded Viszen with Hennie Brink. Viszen is a Software-as-a-Service platform for streamlined process digitization towards a paperless world. Our platform helps organizations transform physical documents, forms, and processes into digital experiences with as little effort as possible. Viszen provides data orchestration and business rule processing, as well as integrations with accessible output channels and existing systems within an organization. Our greater vision is to bridge the gap between the physical and digital world. Let us help you transition to digital. Get in touch at Viszen.tech
PI is the brand that houses all my crazy ideas, authoring, and speakership activities. We launched Hivemind - a collaborative productivity platform, and have focused my efforts on Viszen. My talks and workshops are usually around software architecture, design and design thinking, tech and business, artificial intelligence, and sometimes philosophy. I always try to adapt my content and approach for talks and workshops to align with the context and audience. For more information, see here. If you're interested in having me speak at your event, contact speaking@prolificidea.com with the details.
I fulfil the role of the business solutions manager at Entelect where I am responsible for business development, strategic planning, ideating, and designing solutions for international clients. I am also responsible for broader strategic initiatives within the company, community, and industry. My work largely consists of growing others and solving complex problems, whilst keeping the bigger picture in mind.
I founded and run the Artificial Intelligence South Africa(AI ZA) group. The goal of this organization is to create a platform for up skilling, knowledge sharing, and networking in the future tech space. The group has over 3000 members and has hosted over 50 events since 2016. It's a space for people of all ages, skill levels, and walks of life to collaborate and grow together.