We're living in an interesting time right now. Some of us have weird and wonderful adjustments to living in lockdown and WFH, unexpectedly different relationships with people - where those who were close might seem far, and those who are far seem much closer. We have uncertainty in the future in almost all its aspects, but we also have fascinating opportunities that could never have been anticipated.
With this much change, uncertainty, and opportunity, it's paramount that we take care of ourselves, especially our minds. That might mean being more physically active, more mentally comfortable, or more emotionally available.
Routine life in 2020 can feel uneventful, monotonous, and straight-up too cushy. Although the best changes in life are usually small, incremental, and consistent over time, I've decided to challenge myself to accomplish something a little ambitious during October 2020.
Active: Get the heart pumping
100 squats per day: This sounds like a lot but it can be accomplished by simply doing 10 per hour to start with, 25 four times a day, or all in one go with some light breather breaks.
100 push ups per day: Similar commentary to the 100 squats.
10,000 steps per day: This isn't many steps at all. This target is based on the recommended number of steps per day, and given that I've been mostly inactive during lockdown, anything will do good.
Mind: Get the mind dumping
1 Inktober art piece per day: I've attempted this challenge in the last couple years. Many past ideas were too ambitious and usually aimed to please others. This time, I'm trying to use it to illustrate whatever comes to mind and interests me the most - it's a visual brain dump.
1 journal entry per day: Journaling is something I've done quite seldomly - it's often forgotten about when life gets busy. However, it doesn't take much time, and it helps declutter and organise one's mind. Putting something down in the real world allows you to look at your thoughts and ideas differently.
Discipline: It's key
0 alcoholic drinks for the month: Not even in social situations. This is mainly a discipline thing. I stocked up on my favourite booze after the alcohol ban in South Africa was lifted. Having drinks available but resisting the temptation is an interesting challenge for me, along with the potential health benefits that come with it.
4l of water per day: Personally, I've been trying intermittent fasting, but still find myself drinking many sugar-based drinks during my "eating" hours. I'm trying to increase my water intake to help with flushing out some of the sugar while I try to cut down on the energy drinks.
If you're reading this, I challenge you to create a goal and strive towards it for a month. At very least you'll learn more about yourself.
In the spirit of beating my biggest opponent - myself.
---
UPDATE
I spent the month of October striving towards the goals mentioned. I would describe it as...interesting. Although this wasn't necessarily about the results, but the journey, here's what I accomplished.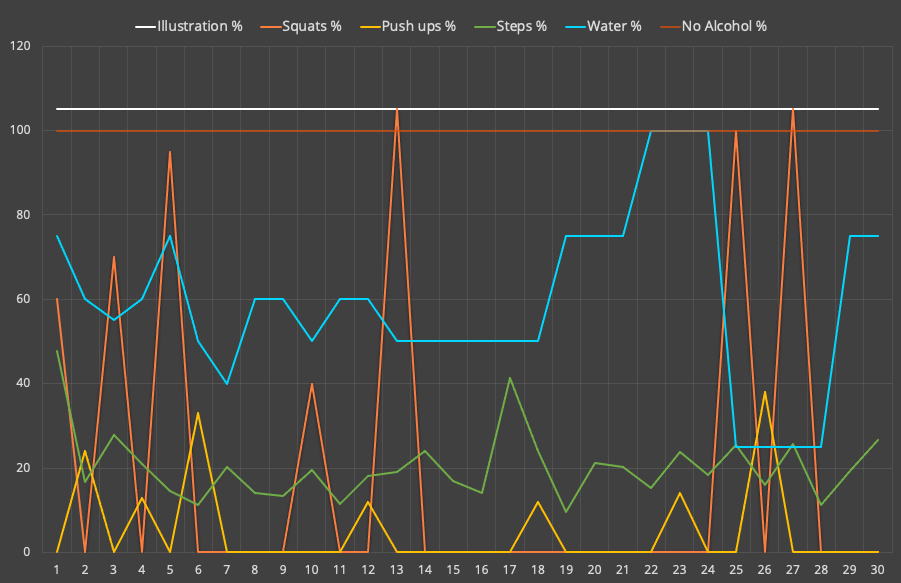 Active
I didn't quite achieve the 100 squats and 100 push ups per day. I learned that these activities needed to be alternated each day to give the muscles time to recover. There were some long-winded slumps, but I peaked at 105 squats on this activity's best day, and 38 push ups on it's best day. The total over the month was 575 squats, 146 push ups, and 60,889 steps. I missed the goal, but encouraged discipline and building some positive habits.
Mind
Threw an additional challenge in here: Learning something unusual and new each day inspired by the Inktober prompt list. I completed all 31 Inktober illustrations and learned 31 fascinating things that I wouldn't have otherwise. However; the first half of the month maintained consistency in completing 1 illustration a day, and after a slump, I needed to catch up by completing 2 or 3 illustrations per day to meet the deadline. Journalling featured here and there. I learned that journaling helps with relieving a busy mind and creating a loose sense of structure and acknowledgement. Some days were simply peaceful where thoughts didn't linger or cause any trouble.
Discipline
This was an area of the most success. I avoided alcohol for the month, and felt great about it. My water intake increased from some prior days of drinking nothing to getting as much as 2 litres on some days during this challenge. Total tally over the month is 35,6 litres of water.
Key Learnings
Intention and discipline is key. Living is unpredictable. As much as we want to establish strict routines, we also get bored. We want to push ourselves. We want to try different and new things. Don't punish yourself for small losses when you're also working steadily towards greater wins.
Processing your application
There was an error sending the email, please try again
Great!
Check your inbox and click the link to confirm your subscription