Brain food: Deep work vs collaboration, AI sneaker design, and the job of sleep
Welcome to this week's brain food. These aim to be short and easy to digest pieces that enrich your work and life with simple ideas and principles.
---
We fear change, yet the ability to adapt is our biggest strength
▓▓▓░░░░░░░░░░░░
2023 year progress: 17% complete
---
Today in a nutshell
Evaluating individual contributions vs. group collaboration
Using AI to design uniquely new sneakers
The types of sleep and the functions they serve
Deep work vs collaboration
Individual work routines and group ways of working can often be at odds with each other. The two concerns that impact our productivity and satisfaction is: where we spend our time and what's happing with our headspace. Although there is a relationship between the two, we're typically more engaged when we're focused for a solid period of time, spurring small wins and meaningful progress, and ultimately giving us satisfaction in what we do - deep work. Conversely, some problems need group collaboration and time for us to digest and think about in the back of our minds. How do we balance this in a typical work day?
The diagram below illustrates two different routines.
Option A consists of a day scattered with meetings, leaving some gaps for deep work. We all know the need to prepare for a meeting ahead, and "recover" from a meeting that happened. Because of the constant flux, less work actually gets done, but there is more face-time between people, which can also be crucial.
Option B consists of one longer collaborative session, leaving the rest of the time for deep work, and asynchronous communication (Communicating via text messages, voice notes, email, etc.). Because there's no anxiety caused by anticipating many meetings, we can immerse ourselves in deep work and deliver more value, without many preparation and recovery periods.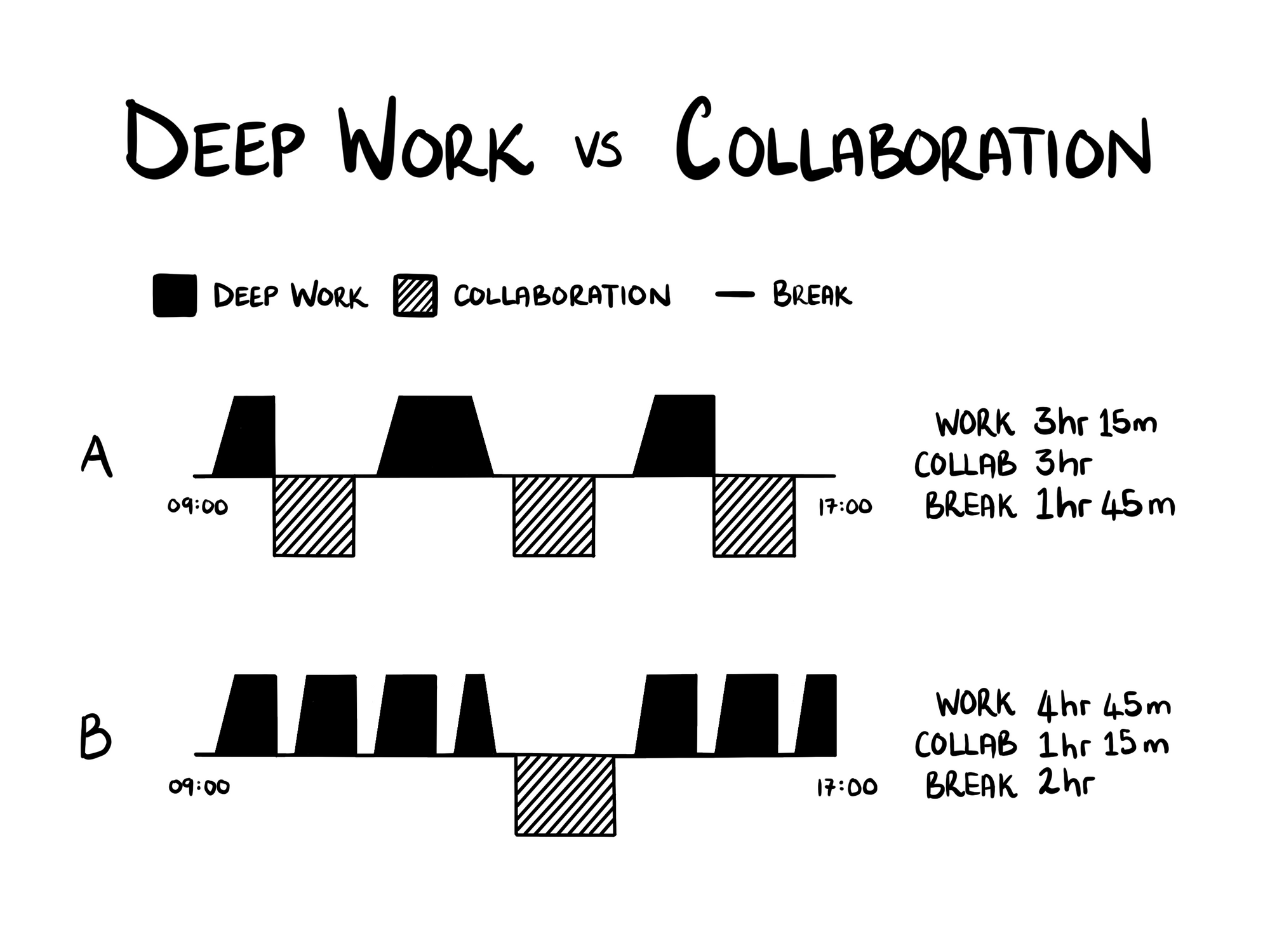 There are many permutations of a typical work day, but in these two examples, option B wins in creating more deep work time and less head space fog. However, the precious face-to-face collaboration time needs to be as effective as possible. How can you achieve this?
Foster a culture of trust and transparency: If people are trusted, there's less of a need to check up in time-consuming meetings. If everyone is trusted and transparent, people will reach out for assistance and raise concerns asynchronously.
Favour asynchronous communication over meetings: Create a virtual environment that reduces friction for communication, and allows for visibility by everyone involved. Not everything needs an answer within seconds. Not everything needs to distract people from their deep work. Figure out an agreement for asynchronous response expectations within your team.  
Make meetings and collaborative sessions impactful: Our human nature rewards us for meetings and face-to-face interactions. We feel busy and think we're being productive when we meet, but this has diminishing returns if everything defaults to meetings. Make your precious collaborative sessions have purpose, a solid structure, and stimulate participation. You can learn more about this in our Effective facilitation guide.
In summary: Reduce head space fog and get more done by fostering a culture of trust and transparency, favouring asynchronous communication, and making the precious time you have with people as hard hitting as possible.
I've distilled my learnings about collaboration into InteractsApp.com. Take advantage of it as a tool to become a better facilitator and leader.
AI sneaker design
The surge of image generation AI tools have largely been used to create beautiful works of art, hyper realistic human characters, buildings, landscapes, and even full length graphic novels. Fashion and apparel is at the intersection of art and utility. So how can we use AI to help us ideate something tangible for the real world?
One of my favourite styles of sneakers are Nike's range of iconic basketball shoes, and one of my favourite childhood shows is Dragon Ball Z. In this experiment, I wanted to see if an AI could create uniquely new Nike sneaker designs based on popular characters from the show.
To do this, I found images of the characters that would be used as references fed into Midjourney, with a prompt to imagine each character as a Nike sneaker. Here are the reference images.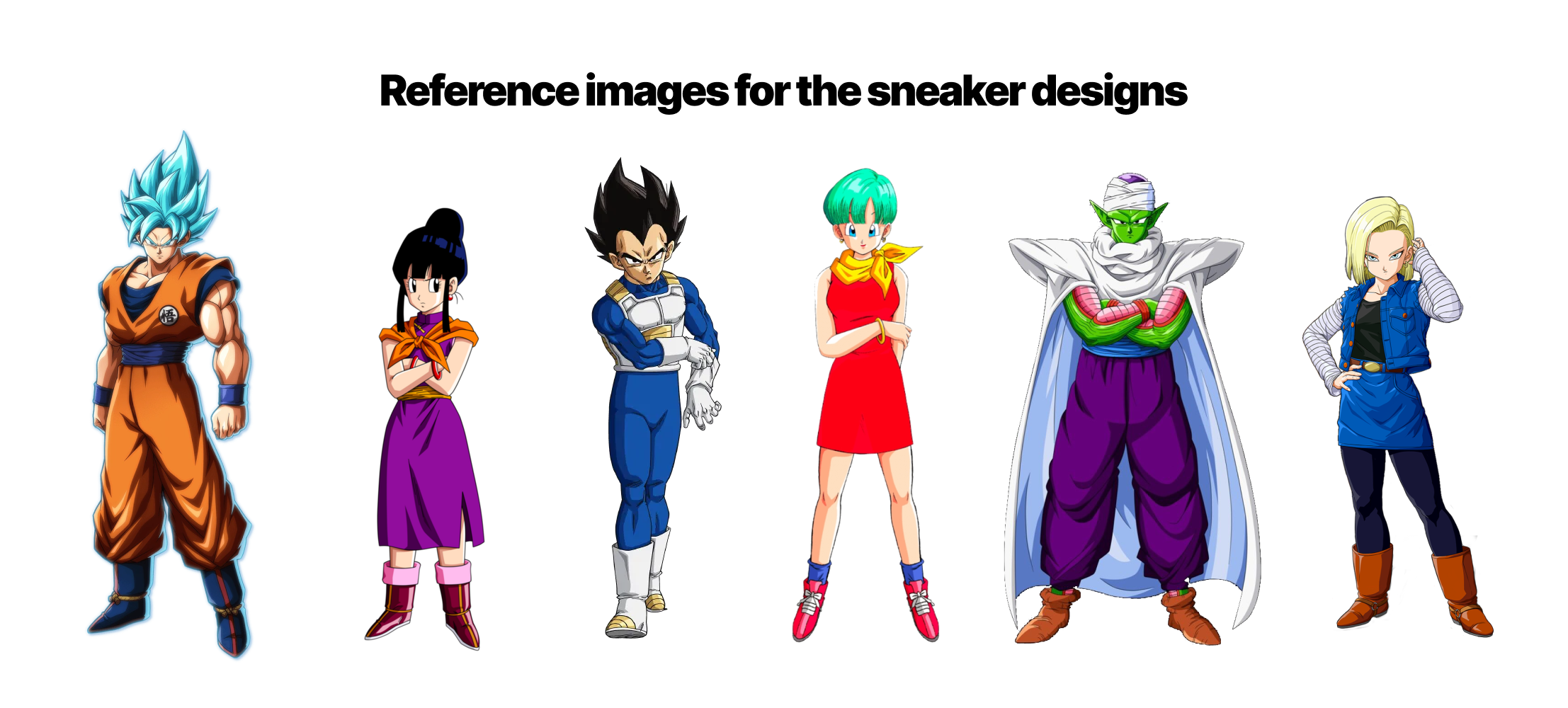 After just a couple iterations of swapping out the character images with different variations and adjusting the prompts, here are the results.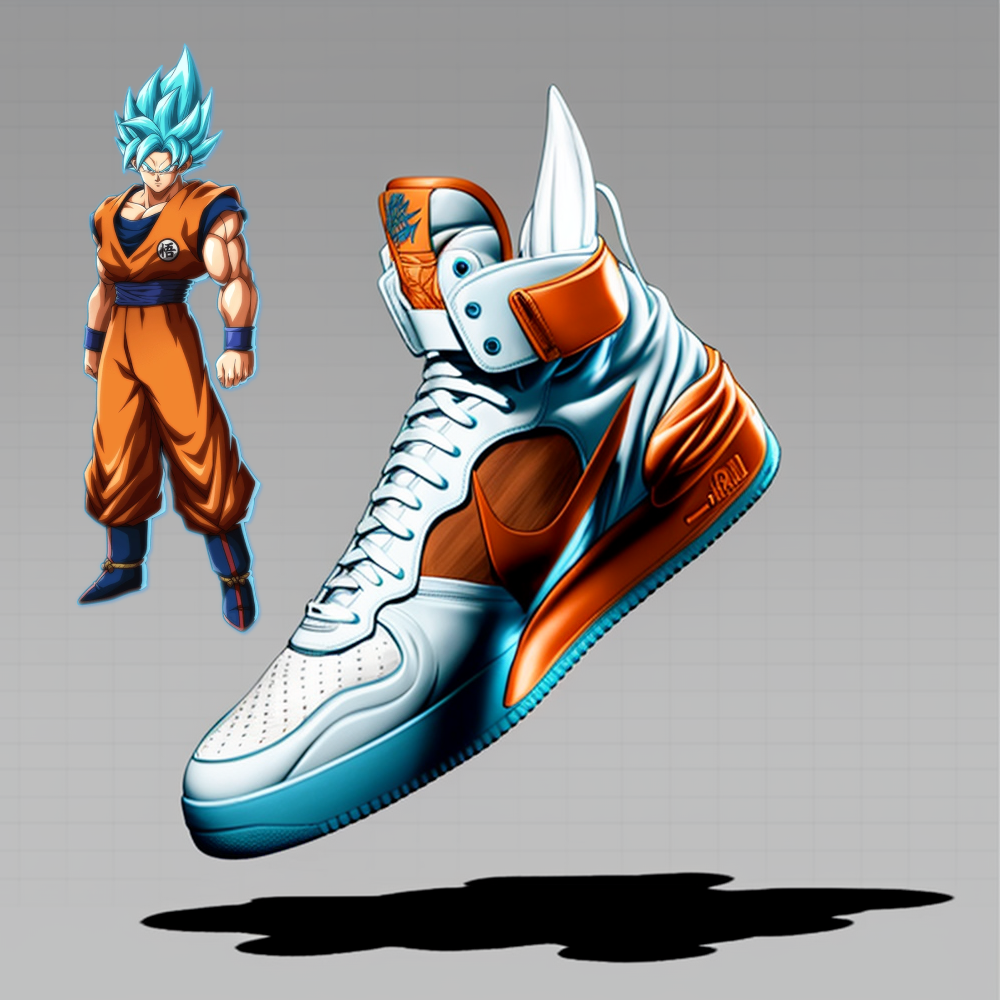 The colour scheme matching, and subtle stylistic matching is quite extraordinary. Some observations:
Goku's white and orange sneaker: The heel mimics the style and texture of his bold hair.
Bulma's red and green sneaker: The bow on the ankle takes inspiration from her hair colour and scarf.
Piccolo's white purple green and orange sneakers: The orange bulky ribbon tied on the ankles represent the texture of his shoulder plates and cape.
Would you wear any of these sneakers? Imagine what other products AI can help us ideate and bring into reality. What would you make? Let's discuss on LinkedIn.
The job of sleep
Did you know poor sleep quality impacts our brains, central nervous systems, respiratory systems, cardiovascular systems, digestive systems, immune systems, and hormones?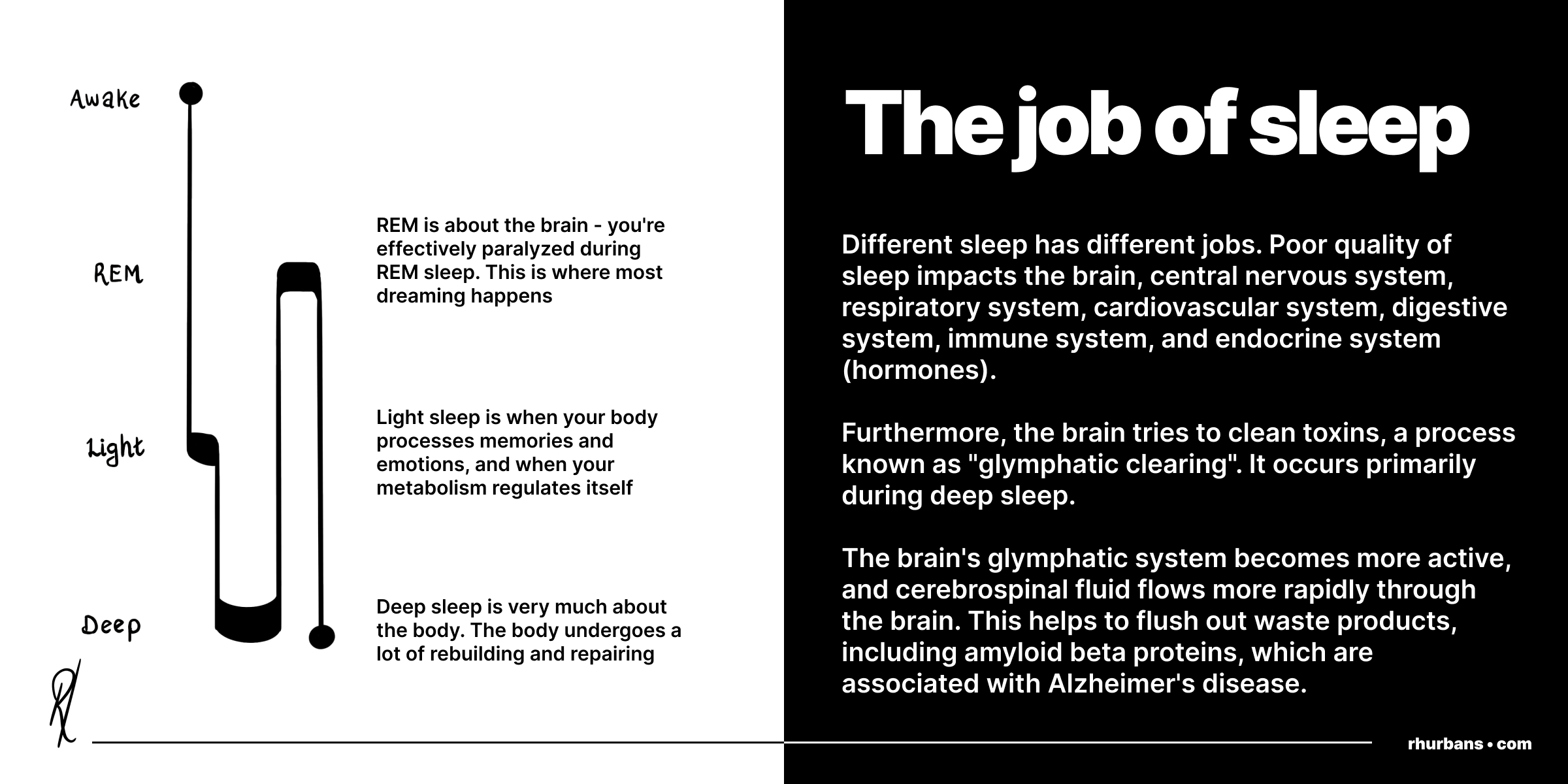 Download the full "Ideas everyone should know" eBook here.
---
I hope you enjoyed and was enriched by this edition!
If you missed the previous edition, read about Focused communication.
Try my apps
I'm dedicated to building solutions that make people more productive and happy. I'd love it if you tried my apps, and appreciate any feedback you have! You can email me.
Interacts:  A remote and hybrid collaboration tool for engaging workshops, retrospectives, team building and more – InteractsApp.com
FancyGPT: A Chrome extension to save and share beautiful ChatGPT snippets as images, searchable PDFs, and text files – FancyGPT.com
---
Share and stay in touch
If you enjoyed today's newsletter, please share it with your friends, family, and colleagues!
If this email was forwarded to you, consider subscribing to receive them in future.
Connect on LinkedIn
Follow on Twitter
Processing your application
There was an error sending the email, please try again
Great!
Check your inbox and click the link to confirm your subscription